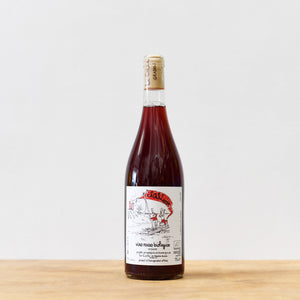 Country: Italy
Region: Gradoli, Lazio
Grapes: Aleatico
Viticulture: Biodynamic Farming / Natural Wine 
A wine intended to 'illustrate the beauty of nature and remind us of its fragility if exploited'. It is being sold to raise awareness for and support local farmers and residents that have come together to protest against plans to build an industrial geothermal electricity plant on the banks of Lago di Bolsena.
A product of carbonic maceration, with its delicate notes of red fruits and rose water, this lithe, fragrant take on Aleatico is incredibly invigorating.
Gianmarco Antonuzzi and Clementine Bouveron tend around 14 hectares of land with vineyards amongst olive groves, chestnut trees, shrubs and oaks. Volcanic soils, rich in iron and minerals. Everything is done by hand with careful attention to each plant (despite there being 10,000 vines per hectare).