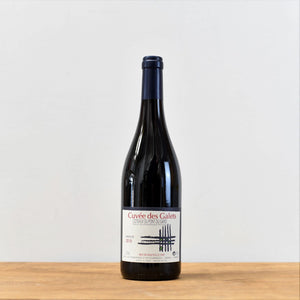 Country: France

Region: Rhone Valley
Grape: Grenache and Syrah
Viticulture: Organic Farming / Natural Wine
Winemaking: Native yeasts used with low intervention and low sulphur levels.
Classic Rhone flavours of rich dark fruits and spice. Low sulphur and a fantastic freshness. You really can't go wrong when a natural wine is this good at this price. 
Les Vignerons d'Estezargues produce quality natural wines in Southern Rhone from grapes grown Organically and Biodynamically. They are a co-op that gather grapes from various growers using only local varieties. Les Galets are the pudding stones of Chateauneuf de Pape which hold in the suns heat to reflect back onto the vines at night.