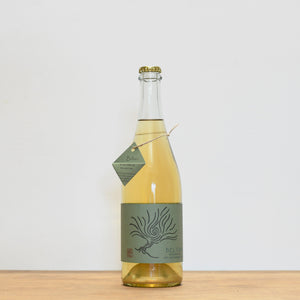 Country: England
Region: Chew Valley
Grapes: 85% Orion, 10% Seyval Blanc and 5% Johanniter
Viticulture: Biodynamic Farming / Natural Wine 
All grapes are crushed and destemmed and co-fermented. Natural fermentation through wild yeasts for 4 days on the skins to extract the amber colour. 
Fresh and alive packed with elder flower and hedgerow. A well rounded complex palate from the skin contact. Seriously tasty! 
Limeburn Hill is an organic and biodynamic vineyard based just outside of Bristol near Chew Magna. Robin and Georgina, who run the vineyard, put everything into their sustainable, ecological approach. Caring for the soils and building an ecosystem is their priority, the incredible Pet Nats they produce are just a by product of this. They are perched on a sunny south facing slope overlooking Chew Magna with seven varieties growing. They currently only make Pet Nats which we've tried and tested and can confirm they are all incredible. 
75cl.