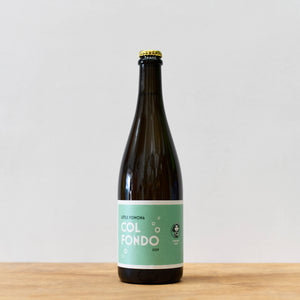 On the nose there's Russet apples along with honeydew melon and blossom. It's a lovely green tinged, slightly hazy yellow colour. In the mouth it has a pillow sparkle, flavours of kiwi and lime zest and that characteristic spice and slight tanginess of the col fondo methods.
Hand-picked harvested • After three weeks left for natural fermentation (without any sign of fermentation) they inoculated the juice with a tiny amount of cultured yeast. • Tank and barrel used • Apple pressed into stainless steel in early December
First launched onto the market in 2017. Susanna and James Forbes' story started a few years earlier, when they found their dream orchard in Thornbury, North Herefordshire:120 trees with four classic cider apple varieties. Inspired by the tasted and vision of notable producers, their quest was to work with the best possible fruit using natural methods to fashion ciders and perries with true flavours. Ciders with the character and structure to match with food.