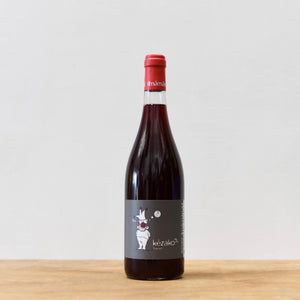 Country: France
Region: Languedoc
Grape: Carignan
Viticulture: Biodynamic Farming / Natural Winemaking
Vinification: Hand harvested organic carignan grapes are pressed and fermented spontaneously with native yeasts. Old oak barrels are used for aging. The wine is bottled unfined, unfiltered with very low SO2.  
This is a really fun wine full of fresh black fruits. It's spicey and complex with a savoury finish. 
Marc Castans vineyard plots are spread over the communes of La Palme and Leucate on clay soils and limestone. Some are bordering a small lake, while others are close to a sea side cliff. The surface area is around 15 hectares. The yields are quite low, varying between 8 and 30hl per ha. The plots are surrounded by a varied vegetation: tamarind, pines, reeds, olives and almond trees, and low scrub vegetation. They work 9 grape varieties: 4 White (Macabeu, Grenache gris, Carignan Blanc, Muscat a petits grains) and 5 Red (Carignan, Grenache, Mourvedre, Syrah and Cinsault).