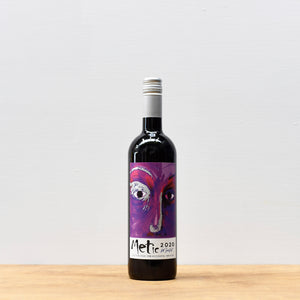 Country: Chile
Region: Colchagua Valley
Grape: Merlot 
Viticulture: Organic Farming / Natural Winemaking 
Vinification: Grapes are hand picked from 30 year old vines. Fermented with wild yeasts.
Easy drinking, dark cherry and berry fruits. Medium bodied great value natty red. 
Metic is the talented duo of Luca Hodgkinson and Jose Miguel Sotomayor, based in the increasingly interesting and forward-thinking Colchagua Valley in central Chile. Luca consults for many wineries in Chile and has his own business sourcing grapes from sustainable and in many cases organic vineyards. They have started mastering the production of incredible value natural wines from this region.