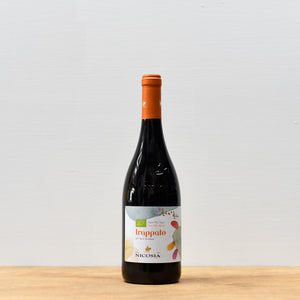 Country: Italy
Region: Sicily
Grape: Frappato
Viticulture: Organic Farming / Natural Wine 
Vinification: Grapes are hand picked in September. The grapes undergo maceration and fermentation for 10-15 days at a controlled temperature of between 22-24°C. The wine is aged in stainless steel vats and 2 months in the bottle. No added sulphur. 
Vibrant, youthful nose of crushed red fruits, redcurrant and wild berries, with hints of aromatic herbs. The palate has juicy red berry and sour cherry characters offset by a burst of fresh acidity and gentle tannins.

Cantine Nicosia is based at the foot of Etna, on the east coast of Sicily, where Carmelo Nicosia, along with his sons Franceso and Graziano (5th generation), have developed their family business into one of the area's most important wine producers. Located at the base of one of the craters dotting Mount Etna and at an altitude of around 700m.  The vineyards have been completely restructured and replanted, focusing on the native varieties used for Etna DOC wines: Nerello Mascalese and Nerello Cappuccio for the red, and Catarratto and Carricante for the whites. The extraordinary wealth of minerals found in Etna's volcanic soils can be credited with the very rich flavour and unique character of the wines produced here.