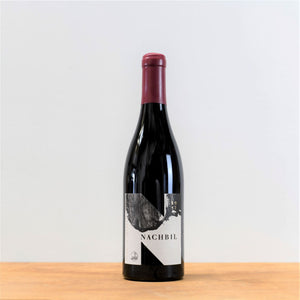 Nachbil is located in Beltiug in the North-Western Transylvania region of Romania. They have been farming with no herbicides, pesticides or fertilizers since 2010 along with no intervention in the winery. The climate is ideal for ripening the grapes along with rich clay soils. The Feteasca Neagra grapes spend 4 weeks on skins in 2000L old oak barrels. After 11 months in barrel the wine is bottled totally unfined and unfiltered. 

Feteasca Neagra is a local variety in Romania, similar in style to Syrah from Northern Rhone. A wine with a funky style that entices you from the first to the last sip. Flavours of plum and cherry with an underlying warm spice from the barrel and a good amount of acidity keeping the wine fresh and alive.  
Natural Wine, Organic Wine, Vegan Wine with low sulphur, unfined and unfiltered.