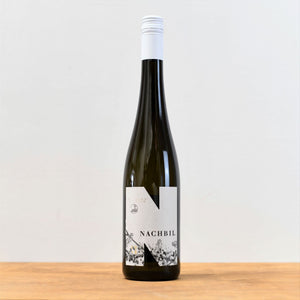 Country: Romanic
Region: Crisana & Maramures
Viticulture: Natural Wine / Organic Farming 
Nachbil is located in Beltiug in the North-Western Transylvania region of Romania. They have been farming with no herbicides, pesticides or fertilizers since 2010 along with no intervention in the winery. The climate is ideal for ripening the grapes along with rich clay soils.
Handpicked Riesling grapes are fermented in stainless steel tanks with the wild yeasts for 3 months, after which they are bottled unfined and unfiltered. 
Incredibly tasty Riesling with a zippy acidity perfectly balanced by a small amount of residual sugar, not too much at all. Creates a similar style to German Riesling from Pfalz. It's complex packed full of citrus and melon flavours, with a honeysuccle finish. 
Natural Wine, Organic Wine, Vegan Wine with low sulphur, unfined and unfiltered.