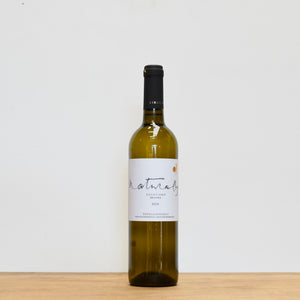 Country: Greece
Region: Attika
Grape: Savatiano
Viticulture: Natural wine / Organic Farming
Vinification: Produced from 60 year old unirrigated Savatiano bush vines from a low intervention vineyard. Grapes picked early in the morning, no mechanical pressing, instead free run juice is transferred to stainless steel tanks. Wild yeast fermentation, no added sulphur. Unfined and unfiltered. 
Complex with rich stone fruit, tasty notes and nicely balanced acidity. This is clean as a whistle with none of the off notes one can often find with so-called natural wines so would make a fantastic, friendly introduction to the genre.


Domaine Papagiannakos was established in 1919 in the heart of the plain of Mesogaia, Attica - just 30km from the shadow of the Acropolis. Third generation winemaker, Vassilis Papagiannakos, was born and bred in Markopoulo, and grew up around the family winery. At that time the Savatiano variety was the winery' s sole focus - but later Malagouzia was introduced, along with Cabernet Sauvignon, Merlot and other varieties. Vassilis owns 10 hectares of vineyard in the Attica region, and maintains long-term leases on a further 20 hectares, with vines on average 50-60 years old. Rocky, sandy, clay topsoil nurtures low yielding bush vines - extremely limited irrigation is employed. The Papagiannakos family continues its traditions whilst bringing the winery into the 21st Century with a stunning and innovative bioclimatic winery.