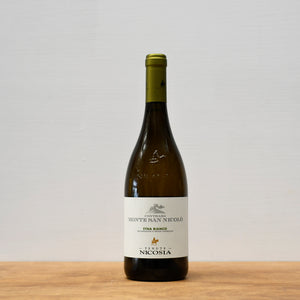 Country: Italy
Region: Sicily
Grape: Carricante 95%, Minella 5%
Viticulture: Organic Farming 
Vinification: The Carricante and Minnella vines are organically cultivated in poor volcanic soil in Monte San Nicolò, on south-east facing slopes at an altitude of around 600m. Hand harvested grapes are cold macerated for 24 hours and, after destemming, are pressed softly. The juice is left to ferment for 25 days. The wine is kept in stainless steel, on fine lees and with regular batonnage, and spends a further 3-4 months in bottle before release.
Savoury, nutty aromas and hints of fennel, ginger and white spice. Stone fruits, texture and minerality on the palate. A lovely complex, well structured white. 
Cantine Nicosia is based at the foot of Etna, on the east coast of Sicily, where Carmelo Nicosia, along with his sons Franceso and Graziano (5th generation), have developed their family business into one of the area's most important wine producers. Located at the base of one of the craters dotting Mount Etna and at an altitude of around 700m.  The vineyards have been completely restructured and replanted, focusing on the native varieties used for Etna DOC wines: Nerello Mascalese and Nerello Cappuccio for the red, and Catarratto and Carricante for the whites. The extraordinary wealth of minerals found in Etna's volcanic soils can be credited with the very rich flavour and unique character of the wines produced here.