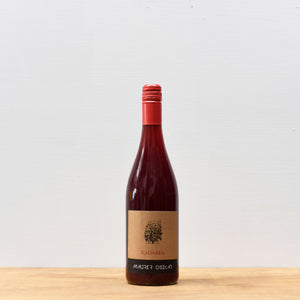 Country: Serbia
Region: Szeremseg 
Grape: Kadarka
Viticulture: Organic Farming / Natural Wine  
Vinification:  Old Kadarka grapes. Nothing added, nothing taken away. 
Fresh and vibrant red. Incredible colour, delicious flavour! 
Made by Oskar Maurer who creates incredible wines in Serbia using only natural wine making methods. The grapes are grown on old bush-wines which have to be cultivated by horses because of the dense planting. Soils are made up of loess, limestone and brown soil.