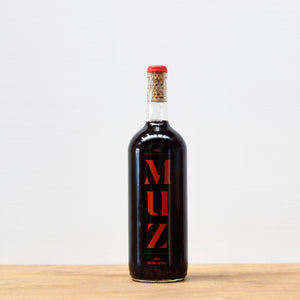 Country: Spain
Region: Catalunya
Grape: Vermouth
Partida Creus MUZ is a natural vermouth. The base is a blend of young red wine, aged red wine and oxidative white wine. It has a blend of 51 botanicals including citrus, alpine and local herbs and spices. Deep flavour and complexity. Have on it's own over ice. 
Partida Creus (named after the crosses used to seperate plots of land) produce a very limited quantity of high-end very original wines made with organically grown grapes. Started in 2007 by a couple of Italian architects from the Piedmont region, Antonella Gerosa and Massimo Marchiori, who, seeking a complete reversal in their lives, relocated to the quiet village of Bonastre.

There they refurbished an old agricultural building, converting it into a cellar, a project carried out with recycled materials and solid structures. They purchased and rented vineyards, in most cases, these were close to abandon.