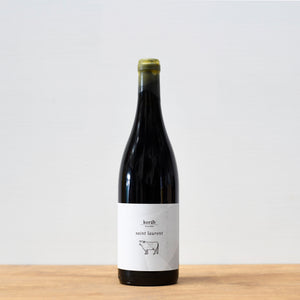 Country: Czech Republic
Region: Moravia 
Grape: St Laurent
Viticulture: Organic Farming / Natural Winemaking
Vinification: All musts are fermented by use of autochtonic yeast in wooden barrels and open fermenting vats. After fermentation, wines are given good amount of time to lie on the yeast. SO2 is kept to minimum.
Packed full of black cherries, strawberries, earth and herbs. Depth and complexity with subtle tannins. 
Petr Korab's winery was founded in 2006. His main focus has been on old vineyards since the beginning - with preservation at the heart of everything he does. The oldest vineyard he owns dates back to 1934. All natural in the winery as he believes it's the only way to retain the soul of the place and terroir.