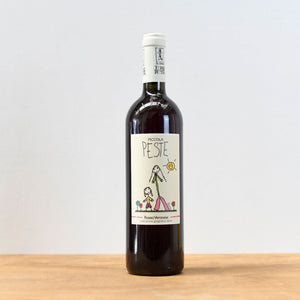 Country: Italy
Region: Valpolicella, Verona
Grapes: Corvina, Corvinone, Rondinella
Viticulture: Organic Farming / Natural Wine 
Wine-making: Grapes are hand-harvested and spend 10-12 days macerating on skins. Natural yeast fermentation followed by aging in stainless steel for 10 months and then 6 months in bottle. Unfined and unfiltered. 
Light and fruity with punchy red fruits. Can drink it slightly chilled on a hot day! 

Laura Albertini and her husband Cristiano are the masters behind these wines. It's a very small estate with only 3 hectares made up of 2 in the high vineyards grown on hard prun rock in Torbe and the other in Marcellise in NE Verona.