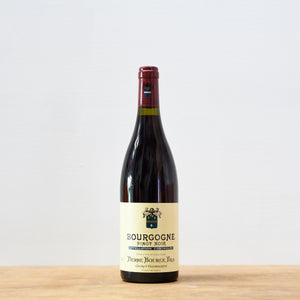 Country: France
Region: Burgundy
Grape: Pinot Noir
Pierre Bouree produce a wide range of Burgundian wines with attention to detail and care put into every single one. There's no doubt that Burgundy has a price tag when it comes to wine but this ticks the boxes that Pinot from the region should have and it's really not too expensive for what it is. It's certainly got us drinking lots of it! 
Whole bunch fermentation takes place using only the native yeasts that express the region so well. 3-4 times a day the pulp gets foot trodden to extract colour and flavour. The wine spends 15-20 months in barrels aging (20% new toasted oak) and then blended together to create the finished product. 
Garnet and light in colour, lots of strawberries and earthy notes like any great Burgundian Pinot Noir. A perfect balance of acidity and tannins.  
In the latter years of the nineteenth century, Pierre Bourée took over a wine business in Gevrey-Chambertin and gave it his name. In 1922, his son, Bernard, succeeded him and renamed the house as Pierre Bourée Fils. In 1945, Bernard Bourée began to train his nephew, Louis Vallet, who eventually became director of the house, assisted by his brother, François. Together, they expanded the cellars and the winery, and developed the business outside Europe. As well as putting their own unique stamp upon the business, each successive generation added to the house's vineyard holdings. Today, Bernard and Jean-Christophe Vallet run the house alongside their sons, Pierre and Louis Henry.