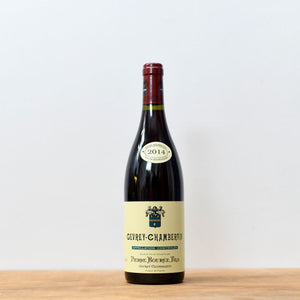 Country: France
Region: Burgundy
Grape: Pinot Noir
Viticulture: Conventional (limited fertilising)
Winemaking: The grapes are hand picked and transported to the winery in small containers. Hand sorting is followed by wooden vat maceration and fermentation, with regular pigeage before pressing and followed by oak barrel maturation.
Delicate sweet strawberry fruit, fresh acidity and a clean, vibrant palate. A restrained style, with elegance and a savoury, autumnal finish.
The Vallets tend their vines very traditionally and advancements in the vineyards have been limited: for example, only manure has been used as fertiliser for the last half a century which has encouraged wild asparagus to grow amongst the vines. Harvesting is manual, as the family is opposed to the use of mechanical techniques.
In the latter years of the nineteenth century, Pierre Bourée took over a wine business in Gevrey-Chambertin and gave it his name. In 1922, his son, Bernard, succeeded him and renamed the house as Pierre Bourée Fils. In 1945, Bernard Bourée began to train his nephew, Louis Vallet, who eventually became director of the house, assisted by his brother, François. Together, they expanded the cellars and the winery, and developed the business outside Europe. As well as putting their own unique stamp upon the business, each successive generation added to the house's vineyard holdings. Today, Bernard and Jean-Christophe Vallet run the house alongside their sons, Pierre and Louis Henry.