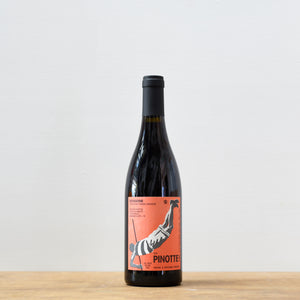 Country: France
Region: Burgundy, Cotes de Nuits 
Grape: Pinot Noir 
Vintage: 2018
Viticulture: Biodynamic Farming / Natural Wine 
Vinification: Hand harvested grapes are fermented as whole bunches without the addition of sulphur. Maturation took place in old oak barrels for a year followed by a year in stainless steel to rest and settle. Bottles with a very small amount of sulphur.
Youthful Burgundy full of ripe dark fruits, cherries and blackcurrants. Hints of spice and pepper on the palate followed by gentle smoke and tobacco. Delicate, well integrated tannins. 

Aligotte! and Pinotte! are two iconoclastic new wines made especially for Burgundy specialist importer Déjà Bu by Sylvain Pataille. Sylvain is one of the most renowned vignerons of Marsannay-La-Côte, part of the talented young crowd engaged in resetting the region's attitude and direction.  He has been experimenting with biodynamics since 2013, organic viticulture since 2007, and has become a pioneer for new-wave Bourgogne Aligoté.