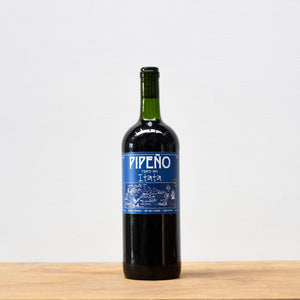 Country: Chile
Region: Itata Guarilihue
Grape: 70% Cinsault, 30% Pais
Viticulture: Organic Farming / Natural Wine
Wine making: Manual harvested grapes are destemmend and co-fermented for six months on skins in tank. Native yeasts used. Matured in cement tanks where natural malolactic fermentation takes place. Unfined but filtered with a small amount of sulphur added. 
Pipeño is the 'peasant' style of Chilean wine, made mainly in the South where traditional methods of viticulture and wine making for personal consumption remain. The essence of Pipeño is natural, rustic, simple and easy to drink!. 
A Los Vinateros Bravos is located in the Old Itata Hills which is a place where terroir allows for incredibly unique wines. The vineyards are on volcanic or granitic soils with large quartz deposits. They have mild summers with a lot of influence from the Pacific Ocean on the Itata River. Fresh sea breeze slows the ripening of the grapes.