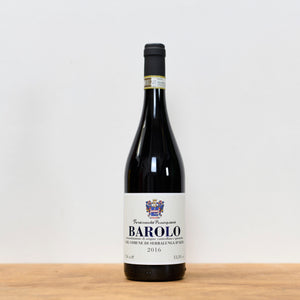 Country: Italy
Region: Piedmonte
Grape: Nebbiolo 
Viticulture: Organic Farming (uncertified) / Natural Wine
Winemaking:  The wine is produced with natural yeasts and is unfined and unfiltered. Aged in stainless steel tanks for ten months. 
An intense cherry-red in the glass. On the nose, notes of violets and cherries with a hint of earth. On the palate, fresh and clean with a slightly spicy edge. Look out for flavours of almonds and liquorice. The tannins are balanced and the finish lingering.
Being located on the southern fringe of the Barolo zone the Principiano estate benefits from the biodiversity of the Alta Langhe; the wilderness that lies beyond the dense planting of Nebbiolo vineyards. This helps in maintaining a biodiverse balance in the vineyard. In 2003 he made the decision to move away from the world of consultants and their prescriptions, both in the vineyard and cantina and since then he's been rewarded by the purity and drinkability of his wines.