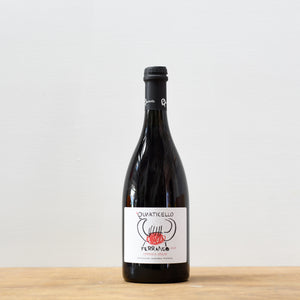 Country: Italy
Region: Emilia-Romanga 
Grapes: Lambrusco Salamino
Type: Sparkling Red Wine 
Viticulture: Organic Farming / Natural Wine
Winemaking: A beautiful sparkling rosato of Lambrusco Salamino. The grapes only spend a night infusing with their skins, leaving a light, bright wine that is a beautiful shade of pink. Initially fermented in vat, the wine is transferred to bottle with a little must for the second fermentation.
The result is a vibrant, cloudy sparkling wine that sings with flavours of blood orange, earth and bitter herbs.
Roberto works organically on five hectares of vines sat on clay-gravel soils. Roberto's wines are deceptively simple, but always delicious, with eating well and good times in mind. Ultimately, they excel in refreshment and make so much sense on any table groaning lined with salumi or cheese.