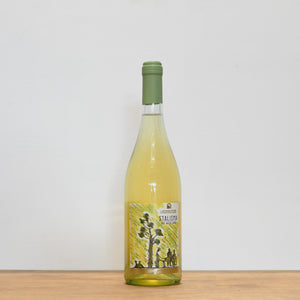 Country: Greece
Region: Thessaloniki
Grape: 80% Malagousia, 20% Xinomavro Blanc de Noir
Viticulture: Organic/biodynamic / Natural Wine
Vinification: Manual harvested grapes are fermented in separate varieties. Harvested in low alcohol volume to keep the acidity and fresh scents. Varieties blended together. Aged on lees (sur-lie) for at least 3 months. Unfined, unfiltered with no added sulphur. 
Hazy in appearance and full of citrus flavours, jasmine and herbal characteristics. Green apples and limes with very well balanced acidity. Minerality and saltiness give it fantastic structure as well. 
Dimitrios received his degree as a chemical engineer and worked for several years in the medical field in order to obtain the needed money to fulfil the dream of his life. The family inherited wine passion led him to take the UC Davis Oenology Extension programme in order to go beyond embedded and tacit knowledge and obtain the explicit knowledge as well about winemaking. He planted with his family's assistance about 11 hectares of vineyards in the slopes of Mygdonia in Northern Greece.