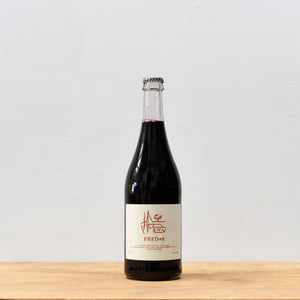 Country; Slovakia

Region: Strekov 
Vintage: NV
Grape: Blauer Portugieser 30%, 20% Dunaj and 50% Alibernet 
Viticulture: Organic Farming / Natural Wine  
Vinification: Spontaneous fermentation in open wooden vats for 2 weeks. Then the wine was transferred to Zemplen Oak barrels to agefor 6 months. Unfined, unfiltered with no added sulphur. 
Juicy and refreshing and amazing quality! It's packed with red fruits. Medium bodied with earthy aromas, cherry and spice. A non vintage blend of local varieties, masterfully put together. A favourite of ours! 
Zsolt Sütő started to work on 12 hectares of land near the village of Strekov in Slovakia in 2002. 7 years later he converted his plots to sustainable farming. The region has a microclimate that allows a long ripening season as the temperature is moderated by the Danube river. Clay-loam soils. The vines are trained into bush vines which mean yields are kept very low with extremely good quality.