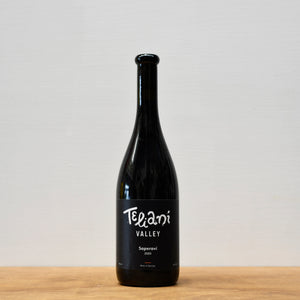 Country: Georgia
Region: Kakheti
Grapes: Saperavi
Vinification: Made from one of Georgia's indigenous grape varieties Saperavi. Wine undergoes 7-10 fermentation on skins.
Saperavi is often compared to Malbec, Cabernet Franc and even Gamay depending on how it is made. In this case we are firmly in Malbec territory – a strikingly deep purple colour, bright and juicy with fresh crunchy dark berry flavours and perfectly balanced acidity.
Winery 97 at Teliani is full of young innovative winemakers who set out to create modern styles of wines using some very old winemaking techniques. There has been a winery in the village since the 1800s and to ensure that this long history of winemaking continued, Teliani Valley was established in the 1990s by a group of enthusiastic young winemakers.