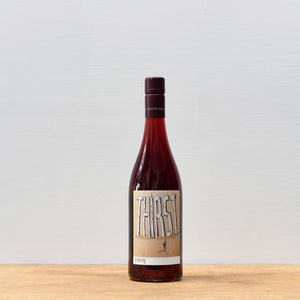 Country: South Africa
Region: Stellenbosch
Grape: Gamay
Viticulture: Organic Farming / Natural Winemaking 
Vinification: This vineyard is 23 years old so it's yields are small, as can be expected from a vineyard of this age. We picked early but with optimum ripeness. In the cellar, whole bunch carbonic maceration methods were used during the fermentation, then the grapes were basket pressed resulting in a wonderfully perfumed fruit expression. No oak used at all.
This rare Gamay is lean and light but by no means simple. The palate displays supple tannins that provide texture, expressive red fruits on the nose and palate, herbaceous tomato-leaf and a fantastic length. Utterly smashable and the perfect Summer red.
Radford Dale was founded in 1998 when Ben Radford and Alex Dale first made wines together. We believe in combining innovation with a healthy respect for tradition. In other words, our approach is old plus new, and the best of both worlds. They work with grapes from the mountainous sub regions of South Africa. They are strong believers in natural work in the vineyard and winery and put this at the heart of what they do.