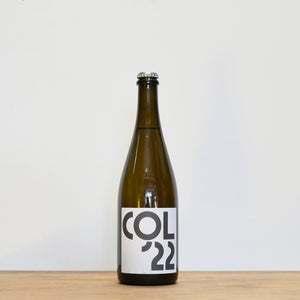 Country: England 
Region: East Sussex 
Grape: Pinot Noir, Chardonnay, Pinot Meunier 
Viticulture: Organic Farming and Natural Wine
Wine making: Made in the Col Fondo (Italian way of describing Ancestral) method where the wine is left to finish fermenting after being bottled resulting in CO2 dissolving in the bottle to give the fizz. The juice first ferments in oak barrels before bottling to finish fermentation by native yeasts. 
A pale, gold colour with a hazy appearance. Toasty, creamy baked apples with an underlying citrus acidity. 
Situated on a slope leading down to the Tillingham River and ran by Ben Walgate, Tillingham is producing some really exciting natural wines. Organic and biodynamic practices are used in the vineyard with poly-culture farming taking place as well. Chalk and clay soils in vineyards that are some of the sunniest in the UK. 

ABV 9.5%