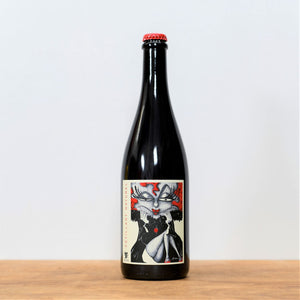 Country: France

Region: Bergerac
Grape: Sauvignon, Chenin Blanc
Viticulture: Organic Farming / Natural Wine 
Winemkaing: Direct grape crushing, very softly. Partial fermentation in stainless steel vats – indigenous yeasts. Minimal filtering after 2/3 of the fermentation. Bottled on the 18th september 2018 with bottle caps. The bubbles are formed naturally in the bottle. No sulphites added.
This vintage is the incarnation of our first bubbles, made like the ancestral method. Lovely lil' bubbles, very low in alcohol and a very fresh fruitiness perfect for an aperitif throughout summer!
In the 12th Century, the vineyard was known as Bridoire Castle's vineyard, due to "Les Gendres" being situated on an ancient Gallo-Roman villa. As written in Féret's 1903 work, Les Gendres was named after the old owner Mr Peyronny, son-in-law of Marquis Foucault de Lardimalie (owner of Bridoire Castle). After sadly being destroyed in the Phylloxera crisis in the early 19th Century, the vineyard now covers only a tenth of what it was originally. Decarbonized soft sandstone from the Agen region (calcium-rich soils on limestone soft sandstone loamy sand-sandstone), clayey-limestone on Asteries limestone (containing fossils) & soft sandstone from the Agen region.
ABV 11.5%