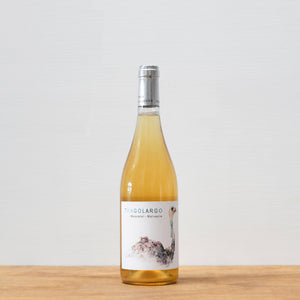 Country: Spain
Region: Alicante
Grape: Moscatel & Merseguera
Viticulture: Natural Wine / Organic Farming 
Winemaking: Manual harvested grapes have a short maceration with their skins followed by a wild yeast fermentation in steel tanks. Low sulphites with no fining or filtration.
Tragolargo Blanco is bursting with zippy citrus fruits and orange pith. It's not overly bitter like some orange wines as it still holds lots of fresh fruit. Well integrated dry tannins which give it fantastic structure and a long finish.  
Tragolargo Blanco, Casa Balaguer is based in Alicante ran by winemakers Andres Carull and Marta Ribera. They champion local varieties, low intervention wine making and organic grapes, very well regarded around the Alicante wine region. Tragolargo Blanco is a natural, organic skin contact white wine made from Moscatel and Merseguera grapes that are hand harvested from the stony soils of the region. A short maceration on the skins, wild yeast fermentation, low sulphites and no fining or filtration makes this wine fresh and alive. Slightly hazey from the minimal intervention but nothing too funky.