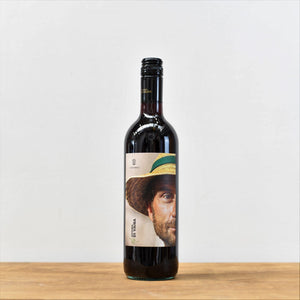 Country: Italy
Region: Molise
Grape: Montepulciano, Merlot and Cabernet Sauvignon
Viticulture: Biodynamic farming / Natural Wine
Wine making: Manual harvest, 75% destemmed and 25% whole bunch fermentation. 7 days maceration with their skins to extract the colour and complexity. Matured in stainless steel tanks with no fining or filtration. Michele Lorenzetti is the master behind the winemaking. 
Packed with black currants and blackberries with an underlying spice. Really well balanced full bodied wine that is still fresh with really ripe tannins. Delicious! Natural, organic, vegan and biodynamic wine. 
Fattoria de Vaira is one of the largest biodynamic farms in Italy. Situated a few hundred metres from the Adriatic Sea on Clay soils with South, South-East facing vineyards. Soils have been restored over the years and are now back to the purity of wild soils. They cultivate vegetables, grains, olive oil and honey. Included in the vineyards are their Montepulciano, Merlot and Cabernet Sauvignon grapes which make up this wine.