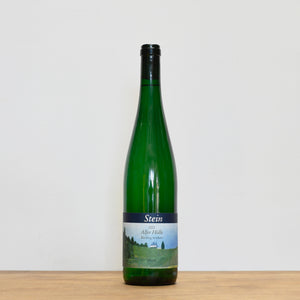 Country: Germany
Region: Mosel
Grape: Riesling
Viticulture: Biodynamic Farming / Natural Wine 
Hand harvested, wild yeast fermented. Minimal S02 at bottling and no other additions.
Classic Mosel Riesling in style with floral notes, slightly off-dry with lots of green apples and a flinty minerality.
The Riesling grapes come from one of the oldest vineyards in Mosel dating back to the 16th century. Stein's mission to protect the heritage of the estate and the history of it keeping old vines and harnessing the character of the land. The vineyards are positioned on steep slate hillsides, a unique environment that they tend to by hand. The practices are biodynamic.