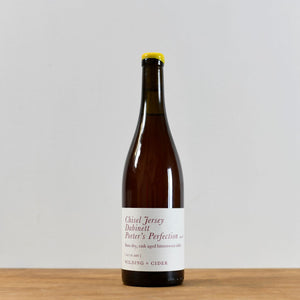 Something a bit special: This cider arose as an experiment in how to build a cider around Chisel Jersey. Chisel jersey can be very tannic with bitter and astringent tannin, and is certainly too much to handle by itself. We paired Chisel Jersey from our own orchard with its half sister Dabinett from the historic Abbot's Leigh orchard, and just enough bittersharp Porter's Perfection from Smith Hayne in Devon to bring some freshness and keep the fermentation safe. The juice was co-fermented in stainless steel for an initial 7 months before
transferring into old red wine casks to mature for a further 9 months on average (two casks filled at different times). The result of the barrel time was extraordinary. The cider cleared quickly and the tannins softened and integrated to an amazing extent. What went in was a big tannic beast, almost undrinkable, has come out with impressive structure, depth and complexity. Bottled in early July 2020, this is drinking very well now, or could be cellared for 1-3 years we think. No sulphites at any stage, no fining or filtration, may develop a light sediment over time.
7.8%
About: Wilding are orchard cider makers and farmers, based in Chew Magna, North Somerset. They grow mostly Somerset cider apple varieties in  traditional orchards, managing them in a careful organic way.
​After some years of hobby cider making they went full time in 2018 and scaled up production to 6,500 litres with fruit from their own 4.5 acre orchard and three other orchards around Somerset.
Fruit is picked from the ground in the old way, let mature and fully ripen before pressing, and then fermented gently and slowly with wild yeasts, no sulphites and plenty of time.