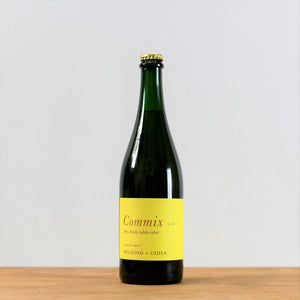 A multi orchard blend of fruit from the 2018 season, the blend was made up over multiple pressings from the first of the season to the last. This is nearly bone dry, with soft tannins, fresh acidity and plenty of fruit on the nose. Perfect with food, a great easy drinking table cider. Varieties are: Yarlington Mill, Brown's Apple, Stoke Red, Herefordshire Russet, Dabinett, Harry Masters Jersey and Porter's Perfection. Some sediment (pour carefully) 
6.5%
About: Wilding are orchard cider makers and farmers, based in Chew Magna, North Somerset. They grow mostly Somerset cider apple varieties in  traditional orchards, managing them in a careful organic way.
​After some years of hobby cider making they went full time in 2018 and scaled up production to 6,500 litres with fruit from their own 4.5 acre orchard and three other orchards around Somerset.
Fruit is picked from the ground in the old way, let mature and fully ripen before pressing, and then fermented gently and slowly with wild yeasts, no sulphites and plenty of time.