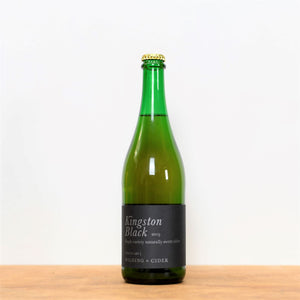 2019 was a good year for Kingston Black, and we had some great fruit available from four orchards: Nempnett Thrubwell, Wilding Orchard (our home farm orchard), Milton Coombe (Wells) and Compton Dando. We decided to blend all of it together to create a cider which really reflects the full nature of the variety, rather than the terroir: the balanced tannins, the lovely acid, the rich and complex aromas of apple pie, toffee, orchard floor and poached plums. 
Fermented in stainless steel with wild yeasts and some residual sugar from the apples, this is as pure an expression of Kingston Black as you will try. Making KB is a labour of love, the apples drop over a long season and are a magnet for birds, so we have to make multiple visits to each tree over about five weeks: usually six or seven trips. Once picked they take between two and four weeks to sweat before they are ready to press. Once pressed they are a dream to ferment - slow and steady and easy to slow further with winter racking. 
About: Wilding are orchard cider makers and farmers, based in Chew Magna, North Somerset. They grow mostly Somerset cider apple varieties in  traditional orchards, managing them in a careful organic way.
​After some years of hobby cider making they went full time in 2018 and scaled up production to 6,500 litres with fruit from their own 4.5 acre orchard and three other orchards around Somerset.
Fruit is picked from the ground in the old way, let mature and fully ripen before pressing, and then fermented gently and slowly with wild yeasts, no sulphites and plenty of time.