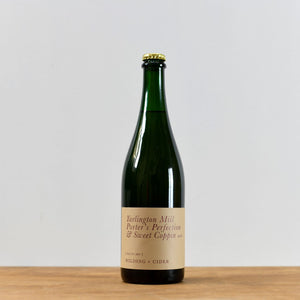 An equal parts blend of three varieties, a bittersweet (Yarlington MIll), a bittersharp (Porter's Perfection) and a pure sweet (Sweet Coppin). The result is well balanced, with soft elegant tannins, light acidity and aromas of green apple, leather, blossom. Just slightly off dry and very lightly sparkling. LIght sediment. We picked the fruit for this blend from Abbot's Leigh and Smith Hayne near Tiverton. Fermented in stainless steel and finished in the bottle.

About: Wilding are orchard cider makers and farmers, based in Chew Magna, North Somerset. They grow mostly Somerset cider apple varieties in  traditional orchards, managing them in a careful organic way.
​After some years of hobby cider making they went full time in 2018 and scaled up production to 6,500 litres with fruit from their own 4.5 acre orchard and three other orchards around Somerset.
Fruit is picked from the ground in the old way, let mature and fully ripen before pressing, and then fermented gently and slowly with wild yeasts, no sulphites and plenty of time.