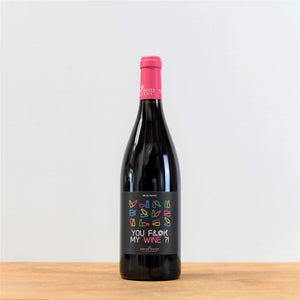 Country: France
Region: Mas de Perlier (near Cahor)
Grapes: Juracon Noir
Viticulture: Biodynamic Farming / Natural Wine
Winemaking: The You Fuck My Wine is produced from a tiny parcel of organic Juracon noir. About 3 % Malbec is added. His grapes are hand selected, destemmed, crushed and macerated for 7 days before an indegenous fermentation in 500ltr concrete barrels (similar to eggs). The wine is racked off and continues to age in these concrete barrels for 6 months before bottling with no added sulphite. 
The YFMW is a soft and subtle red. Tannins are gentle and very well integrated. After an hour in a decanter the wine is alive with black cherry, strawberrys, blueberry, pepper, sweet spice and toast.
Fabien has repeatedly been told by the Cahor AOC regulators that he will never achieve an AOC status because of his experimental varieties and aging methods (or lack of them). The You Fuck My Wine pays homage to the ongoing fight between himself and the officers in charge of the appellation. It is reported that these arguments have been very heated at times.