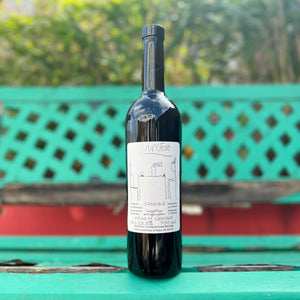 Country: Georgia 
Region: Guria
Grape: Saperavi
Viticulture: Organic Farming / Natural Wine 
Vinification: Manual harvest, destemmed grapes must added in small amount and macerated for two weeks. Macerated and fermented in qvevri. Indigenous yeast fermentation. Matured in qvevri. 
Intense aromas of blackberry, barberry, mint, red raspberry and flavour of juicy red and dark berries with hints of bell paper.
Zurab has been involved in vineyard farming and making natural wines from childhood when he used to help his granddad. He was 13 years old when he made his first natural wine on his own. The Guria region is in the western part of Georgia, bordered by the Black Sea subtropical costal lowlands to the west and the mountains in the east. He makes natural wines in underground qvevris with a total capacity of around 13 tonnes. The vineyard itself is four hectares, planted on the terraced slopes of River Supsa valley, on the reddish-brown clay over lime with lots of magnesium and iron in the soil.